App update for IOS now available to support IOS 15. Please update your app to avoid disruption to your service.
https://apps.apple.com/us/app/beat-irish-dance-feis-music/id1398820796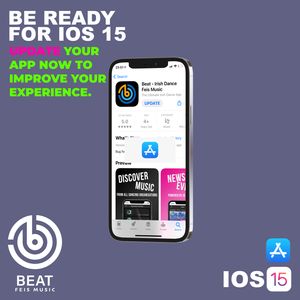 (Closed)
During February and March, we shall be adding a new feature to allow us to play videos within the app's music sections. We hope to roll out beta updates from Feb 15th until the end of March. Please be aware that Beta testers may have bugs or issues during this testing period. If you wish no service interruption, please remove your account as a Beta tester.Beat Team. :) 
(Closed)
We are currently dating our android app account meaning the app will not be available during the 7th November 2020 until 8th November 2020.
(Closed)
Monday 14th September 18.50 Load issue with Apple server causing no access to music or news.
Update 18.59 (Our technicians are currently fixing the issue and estimate a fix by 19.20.
Update 19.35 (We are currently restoring the Beat server and estimate systems to be operational by 20.00UK)
Update 19.38 (All system working as normal)
We apologise for the inconvenience caused to users.
Beat Team